About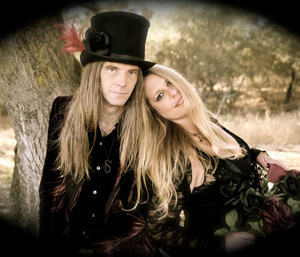 Welcome to White Magick Alchemy, where the spirit of Old World Magic transcends with elegantly handcrafted witch wares and magical offerings.
Gems of nature are the quintessential life force of aromatic botanicals, known as the "soul" of the plant. White Magick Alchemy herbal offerings are all handmade and charged using only the finest organic and wild crafted herbs, flowers, woods and essential oils, created out of love for the earth, nature and the elements.

My family and I take the environment very seriously, that's why we personally strive to create all of our offerings with all natural ingredients, most of which are all locally grown and harvested in the beautiful Sonoma Valley, the Valley of the Moon, (yes, the Valley of the Moon does exist and is a real place…lol) by farmers who are passionate about providing folks with natural organic herbs grown without the use of harmful pesticides and herbicides.
Each formulation, a proprietary blending of ingredients from my personal grimoire. Sacred oils, blessed herbs, natural crystals, resins, heartwoods, and focused intent, bound together with all-natural organic alchemical ingredients with Old World spirit.
White Magick Alchemy candles are not only beautiful, but are created using only the finest premium waxes, pure essential and essence oils, natural dyes and pure hemp and cotton wick. White Magick Alchemy candles are witch-charged for each specific intent especially for you.
Each candle is hand poured with love and magick, and you will receive only premium, high-quality handmade candles, free from harmful impurities, additives, animal products, and poly-based products widely used in in the candle industry today. All of our candles are made using oils exclusive to White Magick Alchemy and Purple Sun Candle lines. Each essence begins as a vision, an intent. Those visions are then shared with my perfumeries who then transform my ideas into magickal essences that I use to create my candles and share with you. You won't find our custom blended aromatic fragrances anywhere else.
A witch by nature, I love creating. I enjoy experimenting with new mediums whenever possible, that's why you will find a myriad of different offerings in the shoppe, which are envisioned and handmade by myself and my daughters. I have a strong connection, appreciation and love of animals, the earth mother, nature, and the forest. I feel a profound connection to the moon and fuse my oils and herbal blends under the moon at nightfall, by candlelight, where I can peacefully create my magical items to share with you, drawing strength and creativity from her natural light and divine ethereal energy.
I am of Norwegian, Romany and Hungarian decent. My practice is paganism in the old world tradition. I don't pretend to be something or somebody I am not. Giving oneself the title of "witch" does not make one a witch, neither does heredity, nor the collection of titles, degrees or initiations. A witch seeks to control the forces within herself or himself, thus making it possible to live wisely and well, in harmony with nature, and not harming others.
I love all things mystical, obscure and sublime. Dark colors of black, deep purples, garnet reds and earth tones are splashed upon the walls of our sacred space which highlight a vast collection of large abstract canvas', gothic and medieval artworks, a large collection of natural crystals, vintage cauldrons, and fine old world art pieces that we have collected along our journey. And of course we always have an abundance of natural candlelight encompassing our lives!
We like to have several candles burning each and every night, which serve pretty much as our main source of illumination during the dark hours. I consider myself blessed to be able to do what I do, creating magick, helping others, and illuminating the journey for all with my magickal candles, which I have been creating, and selling wholesale and retail for close to two decades now ~
You don't have to be a witch, a pagan or wiccan to enjoy our magickal offerings. Our wares are here for everyone to embrace and harness, and I hope that you will enjoy and appreciate all of the many creations we have to offer and share to you. In addition, other unique items and ritual offerings.
I strive to craft and provide authentic, unique and original magickal offerings. Your satisfaction is of the upmost importance. If you should ever have any questions or concerns, please don't hesitate to contact me directly via convo. It is my pleasure to assist you in finding that special magickal offering which best suits your needs. I am also available to create custom candles, ritual spell kits, sacred and healing oils, herbal alchemy blends, incenses, etc. Allow me to embrace your vision!
Magickal Blessings, Peace and Love to all ~

* We use eco friendly solar power to help save our earths precious resources ~
Join us over on Facebook for Special Offers and Sales!
Search under Pages for White Magick Alchemy
http://www.facebook.com/pages/White-Magick-Alchemy/207399934615