Beautiful Handmade Crystal Grids – Universal Life Force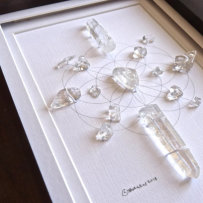 Focus on the Universal Life Force with these gorgeous Sacred handmade Crystal Grids, geometrically hand-designed harnessing the magical energies of natures ancient relics.
Crystals and gemstones are the blossoms of the mineralogical portion of the Earth. The recognition of the beauty and loving energies of these forms can greatly enhance ones personal development.
A crystal grid is the placing of stones in a sacred geometric pattern based on a specific intent, purpose or goal. The formation of ley-lines creates a very strong vortex of Life Force energy allowing the ability to transmute energy from a negative energy field to a positive energy field.
These gorgeous Sacred Crystal Grids will enhance vibrational energy within your sacred space, office, meditation area, out of doors and placed within your sacred altar area. In tandem with the harmonic placement of these gemstones within sacred geometry, the Seed of Life, we now are in tandem with Universal language.
Come see our gorgeously magical Crystal Grids at White Magick Alchemy – click here:
Our beautiful Crystal Grids are handmade to order and are usually shipped within 7 to 14 business days.