Blue Obsidian – Healing, Absorbing Negative Energies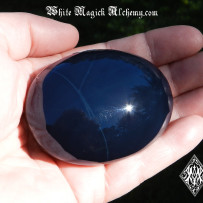 Our gorgeous rare Blue Obsidian was found and mined in Mexico where some of the finest quality Obsidian in the world is found. The deep blue gray hues of mined Blue Obsidian also include inclusions consisting of lighter colored or white lines, although I don't think that this particular gemstone should be confused with Spiderweb Obsidian. Spiderweb Obsidian tends to be more of a black gray with a lot more lines.
Blue Obsidian, as well as having the general properties of Obsidian, stimulates the throat chakra. An excellent stone for someone who has to speak in public, since it enhances communication. It is said to aid telepathic skills and helps in astral travel. Blue Obsidian also acts as a protector during traveling, it is great for directional knowledge as well. Obsidian in general is a protective stone and boosts intuition and insight, and improves psychic communication, dream work.
To see our Blue Obsidian pieces, please click here: