Custom Herbal Blends . Harnessing Herbs, Resins and Energy Crystals Magically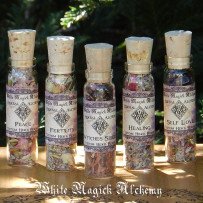 Custom magickal herbal spell blends are available upon request and are witch crafted, charged and blessed specifically for your intent. Allow me to embrace your vision!
SACRED HERBS . NATURAL HEARTWOODS . RESINS . ENERGY CRYSTALS

Each custom herbal blend will be carefully prepared to your specific needs, harnessing the magickal intent and power of blessed herbs, flowers, heartwoods, resins, energy and healing crystals and much much more. Your herbal blend will then be charged under the appropriate moon phase upon an altar of beautiful towering crystals, billowing cauldrons of incense, then given a powerful charge of intent and white magick energy. 

Hand blended herbal spell blends are traditionally used for spell casting, as an incense (to be burned as a loose incense on a prepared charcoal disk in a heat resistant cauldron or incense burning vessel), for stuffing poppets, crafting charms and talismans, candle magick, as an offering or libation, for casting into your bonfire, ritual and ceremony.
Order Custom Herbal Blends by clicking here: