Ditch Plastic Bags with White Magick Alchemy Sigil Tote Reusable Grocery Bags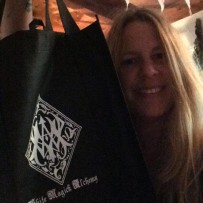 Here ya go!~ Ditch plastic bags & get your very own White Magick Alchemy Tote Bag! This large sized tote is perfect for trips to the market, hauling your lunch and other things to and from the office, the beach, overnight stays, your witchy garb or just running around town! When you pack someone up with leftovers or goodies to take home, give them a handy tote at the same time! The world will thank you for it. Our Black nylon tote features the White Magick Alchemy Sigil Logo and measures 12×12 and is 8 inches wide, plently of room to pack tons of stuff in there if you need to.
Many states, counties and cities are currently in the process of adopting plastic bag ban ordinances and it seems like more and more stores and markets have discontinued plastic bags and have switched to paper-only shopping bags. Many retailers have set up discount incentives for customers to bring their own reusable bags. That's because people are finally discovering the inconvenient truth about plastic bags. They're rarely recycled. They're made from petroleum oil. And they're an enormous harm to our environment.
If you've made the switch to reusable grocery bags, then applaud yourself for being environmentally aware. But if you're still using plastic bags, read the facts below and consider making the switch. Mother Earth, people, the animals and the environment deserve to be treated with respect and care.
Why you might want to reconsider using plastic bags:
★ Plastic bags take anywhere from 15 to 1000 years to decompose.
★ Only 1 percent of plastic bags are recycled in the United States. The rest end up in landfills, the ocean, or some other place in the environment. There's actually a gian garbage heap composed mostly of plastic floating in the ocean that is twice the size of the United States.
★  It is estimated that 1 million birds and thousands of turtles and other sea animals die each year after ingesting discarded plastic bags.
★  More than 10 percent of washed-up debris polluting the U.S. coastline is made up of plastic bags.
★  It takes 12 million barrels of oil to produce the estimated 100 billion plastic bags Americans use each year.
★  The petroleum used to produce 14 plastic bags can drive a car one mile.
Only $3.00 each at White Magick Alchemy click here:
Data Via Huff Post