Haunted Harvest Heartwood Candles for Samhain and Halloween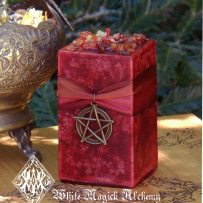 Haunted Harvest Heartwood Candles are back for 2016! – Celebrate the spirit of Samhain and the harvest season with these wickedly magical Haunted Harvest Candles generously scented with harvest oils of deep dark musky woods, oak moss, myrrh, saffron, ginger, heartwoods, sandalwood, orange, pomegranate and strawberry. One of my favorite candles for fall and even into winter, the essence is hauntingly elegant.
The top of the candles is anointed with my Samhain Heartwood resin blend. The fusion of these empowering oils and heartwood resins will encompass your sacred space with their mood transforming essences. A beautiful candle for celebrating the harvest season and rituals honoring the returning of our ancestral spirits during the season Samhain.
Great candles for Mabon, Samhain and even into the Yule season!
To see our New Haunted Harvest Heartwood Candles, click this link!~
★ Never leave burning candles unattended and keep away from children and pets.
Magical Blessings,