How to Make your own Offering Stones – For Giving Back to Nature & Faeries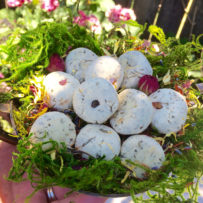 Have you ever wanted to leave a special offering to nature, the gods and goddess, faeries or leave a gift to the earth? Perhaps you have a sacred site in nature you frequently visit, taking in all of natures blessings and beholding in all of its wonder and magic. Or it may be that you have taken something from this space, a wooden branch for a wand, moss, a special stone, a flower, twigs, herbs, berries or fresh spring water and want to leave an offering of thanks. Offering Stones are a beautiful way to give thanks to the earth and to nature. And because they are handmade using all natural organic ingredients, you don't have to worry about your offering being harmful to the earth in any way. The Offering Stones will eventually disintegrate, becoming one with the earth once more. 
How to Make your own Herbal Offering Stones
 
First create the intent of your offering stones. Gather natural and organic herbs, flowers, crystals, gemstones, natural essential oils, anything that is earth-friendly. For forest offering stones, use leaves, twigs, bark, stones, moss, lake or creek water. If you want to do ocean offering stones, incorporate ocean water, unique sea salts, ocean moss, sand, shells, beach rocks.
2 – Cups Organic Flour (or Cornmeal) 
2 – Cups Warm Spring Water
1 – Cup Sea Salt
2 – Tablespoons Organic Apricot, Coconut, Olive Oil
1 – Tablespoon Cream of Tartar (optional) – helps consistency  
Mix all of the ingredients together, and stir over low heat. The dough will begin to thicken until it resembles mashed potatoes. When the dough pulls away from the sides and clumps in the center, remove pan from heat and allow dough to cool until the dough is cool enough to handle. If your dough is still sticky, you simply need to cook it longer. Keep stirring and cooking until it has a consistency of play dough. The dough is ready when it no longer sticks to your fingers. After you've got the right consistency, turn the dough out onto a clean counter and knead until it becomes silky smooth. You can divide the dough into sections which will allow you to make a few different batches utilizing different herbs, crystals and what not. Allow the dough to completely cool.
From there, add pretty aromatic herbs (peppermint, rosemary), flowers (lavender, chamomile, rose petals), gemstones, etc. You can also put a drop or two of pure essential oils. If you want to make them sparkle for the faeries, add some glitter, but please try to find food grade glitter. I prefer this to regular glitter as its not bio-degradable. Fold the dough over, working the additions in carefully with your hands. You can also take enough dough in hand to make each stone individually and add your herbs, flowers and gems with intent. Whatever you choose to add to your offering stones, keep it earth friendly.
Shape and mold into small stones. Place a pretty gemstone or pink rose bud in the center. Or a whole anise star on the top. Shape the dough around any center stones or adornments so that they won't fall out. Let them sit out for several days until they harden into rocks. You can store your stones in an organza bag in a cool drawer.
So there you have it! Leave an offering as your sacred gift to nature next time you take a flower, leaf or pinecone from the forest. Toss one into a river or stream, or leave as a blessed gift to the fae in your faerie garden.
Magickal Blessings,