Old World Alchemy Spell Oils – Candle Magic in the Old Pagan Tradition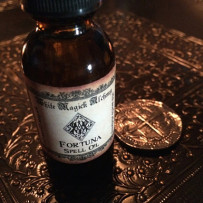 After over a year and a half of careful preparation, herbs and crystals flying all over the place, their energy heightening and lending to the creative element and experience, endless spells and candle magic workings, I am so pleased to now offer our new Old World Alchemy Spell Oils! They are now all listed in the new Spell Oils/Essentials section on the White Magick Alchemy website.
The new Old World Alchemy Spell Oils consist of many of my original spell blends that many refer to as "staples" for the witches cupboard such as my Blessed BE, Psychic Vision, Mental Focus, Stress Relief, Dragons Bood and Protection spell oils. But you will also discover many new unique exclusive potion spell fusions like my new Safe Travels, Insomnia, Reversing, Severance, Coven, Nightmares and Trance oils. I'm really excited about the new oils! Of course, be sure to share feedback here on our blog.
Each formulation, a proprietary blending of ingredients from my own personal aging grimoire, these alchemical oils are created with all-natural ingredients including blessed organic and wildcrafted herbs, flowers, healing and energy crystals, pure essentials, essence and absolutes fused with premium select carrier oils. My premium stock oils are then naturally preserved with organic Rosemary extract to insure a long shelf life without compromising the all-natural aromatic nature of the sacred oils contained within. Each formulation has been carefully prepared harnessing earth's precious gifts. White Magick Alchemy ritual spell oils are always freshly crafted and charged using only the finest and purest ingredients. Sacred oils, blessed herbs, heartwoods and focused intent, bound together with all-natural organic alchemical ingredients encompassing true old world spirit.
Crafted and blessed with special care and magically charged under the appropriate moon phase upon our altars of beautiful towering crystals, billowing cauldrons of incense, each and every batch is then powerfully charged with intent. Within the sacred circle or within our grove of redwood trees, we call upon the ancient ones to empower and bless that which we create to enhance your magical workings as well as ours. Old world secret blendings, all of our spell oils, ritual oils and perfume oil offerings are witched blessed, charged, naturally and magically aromatic.
Old World Alchemy Spell Oils are crafted in the old pagan tradition with focused magical intent and are used to anoint candles during candle magic, spell and ritual workings, to anoint the body, for anointing tools, objects, papers, or burned in an oil burner.
Many Blessings to all and I hope you enjoy our new spell oils ~
White Magick Alchemy® is the original creator of Old World Magick and Old World Alchemy witchcraft offerings, spell oils, ritual spell kits, alchemy candles and so much more! Come visit us today and see what our family of witches has been up to!
http://www.whitemagickalchemy.com
Magickal Blessings,