Pyramid Charging Boxes for Charging Crystals, Jewelry and More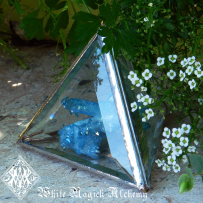 The Ancient Egyptians used pyramids to generate, transmit and transform energy and was know to amplify thoughts. Pyramids can be used to charge and energize your crystals, pendulums, crystal gemstone jewelry, oils, water or anything you can think of. Charge on your altar, outside, in nature, or under the appropriate moon phase. Write a wish on a piece of paper and place it inside the pyramid. Or charge your lottery ticket! Just a lovely handmade artisan piece that will add beauty and magic anywhere within your sacred space. Create a display of crystals or a design scape.
Our beautifully handmade Glass Pyramid Boxes are available in three (3) different sizes and are made with the highest quality bevelled glass, soldered then hinged. Available with either three (3) sides (Trinity Box), or (4) sides (Crystal Channels), they can easily be opened to place anything inside.
I absolutely love these Pyramid Boxes because charging my crystals, jewelry and other magical items are encompassed within a pyramid which amplifies the energy of each piece or item I charge. One of my favorite things to do is to place my newly cleansed crystals inside the pyramid then placed upon my outdoor altar where it can soak up the energy from the moon and harness the power of the universe.
These make beautiful gifts too! Especially for your witches as well as crystal collectors. These are ready to ship within about 3 days. Click this link to view our selection of handmade Glass Pyramid Charging Boxes: Click here