Queen of the Witches Candles featured on Witches of East End – Hekate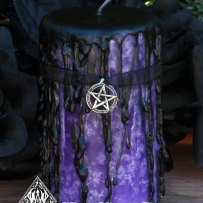 Hekate, Queen of the Witches – White Magick Alchemy was picked to provide our magical spell candles for the "Witches of East End" TV series on Lifetime! Contacted in the Spring of 2014, we provided a ton of our Queen of the Witches Hekate Spell Candles for the show in the 3×6 size.
In addition to working on the Witches of East End project, we also provided candles for the 2005 movie "The Skeleton Key" staring Kate Husdon and Gena Rowlands.
The Queen of the Witches Candle is scented with essences of dark amber, musk and sandalwood, although the candles poured for the TV series were made unscented. It was actually my recommendation since many people are sensitive to fragrances.
You can purchase the Queen of the Witches Hekate Magick Spell Candle at White Magick Alchemy, click here:
This candle design is an original concept created by White Magick Alchemy.