White Magick Alchemy Sigil Logo Gets Attention on Main Street Penngrove CA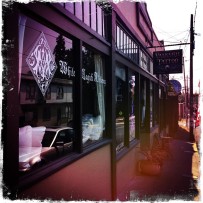 It's a miracle!~ We finally got the signage up on the White Magick Alchemy Studio in Penngrove today!~ Of course it took 3 of us to do it, one to hold the tape, one to hold the scissors, one to "Yeah! That looks straight!" ~ And as soon as the name was on the window, here come a bunch of passersby thinking we just opened a retail store even though it says PRIVATE STUDIO right at the front entranceway in two places and our website address is on the front window…  lol
Even though we've been at the new studio since March 2014, no one has really known, except the other local businesses, what was in the space located at 10010 Main Street in downtown Penngrove, California. Practically everyone who drove by today couldn't help but look over at the WMA diamond shaped sigil logo and WHITE MAGICK ALCHEMY in medieval gothic font streaming across the front windows. And I have to wonder what they think of the name. Does the word "Magick" and "Alchemy" spark a bit of fascination and enchantment in the minds of the 10,000 bored and frustrated commuters that drive down Main Street on a daily basis? Or do they envision sorcery and witchcraft behind the walls and windows of one of the oldest historical buildings in this small sleepy town? Who knows. But what I do know is that we are here to stay for a spell.
Visitors are welcome to pick up a business card and a 15% coupon code to visit our online shop should they happen to make it past the threshold.
To visit White Magick Alchemy, click on this link.