The Magical Powers of Oleander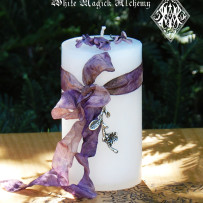 The magical powers of oleander. Oleander is a powerful and dangerous flower said to bring misfortune and disgrace. If taken internally, the flowers and stems of this flowering plant can be toxic and even deadly.
While it's pretty appearance makes you think you can cut it and put it in a pretty vase, the suggestion is don't do it. And don't dry it and burn it as an incense either as breathing it in can be toxic as well.
I created my White Oleander Spell Candle to aid in magical workings involving dealing with negative energies, warding and banishing baneful forces, protection and reversing. And like the plants attractive facade, don't let this candle's charming exterior fool you.
Created using a safe Oleander essence oil, I also incorporated Lilac, another powerful flower of banishing negativity and protection. Both Oleander and Lilic also possess loving energy as well and will bring peace, harmony, change as well as work together perfectly in spells involving love and love relationships.
To purchase my new White Oleander Spell Candle, click here: