New Herbal Spell Blends To Manifest Your Intentions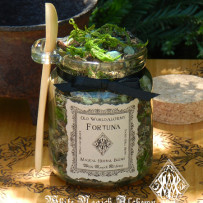 My new proprietary magical Herbal Spell Blends will help bring your practices, rituals and ceremonies to a higher level. These blends include the finest of herbs, crystals, gemstones and other elements of nature to compliment harmoniously what you are seeking to focus your energy on. 
Combine nature, a witch's intention, the appropriate spell, a blessed herbal concoction…and powerful energy is manifested. Assisting greatly in your goals and desires.
Herbal Spell Blends are used in a variety of ways to increase the intensity and power of your intentions. They are known for adding energy, strengthening spell casting, crafting charms, stuffing poppets, and used for casting into a fire or incense cauldron during rituals. A powerful element indeed.
Burning one of my Herbal Spell Blends by itself is magical, enough to fill your sacred space with its mood transforming essence and manifesting desired energies. However, standing under the silver light of the moon, the warmth of the sun, under a majestic tree or in your living room over an altar, enhances the experience overall. Include my Herbal Spell Blends in any of your rituals, spell casting or ceremonies and experience how they empower and heighten the moment.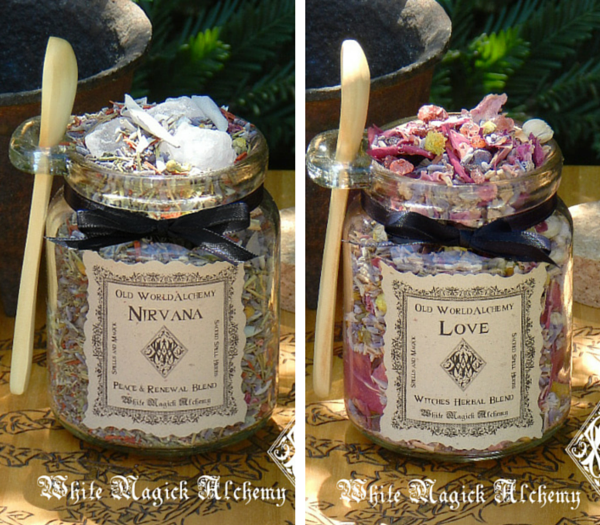 Nature is the witch's best friend. I knew when creating these powerful new herbal blends each element of it had to lend to and empower the intention of what one was seeking.
When I sat down to create the first blend, FORTUNA, I knew the oak tree was a perfect element to add as it represents strength and wealth. Another element I knew I wanted to include was jasmine for its representation of inventive, brilliant new ideas. Two wonderful aspects that compliment each other to harness good fortune, luck, abundance and prosperity in ones life.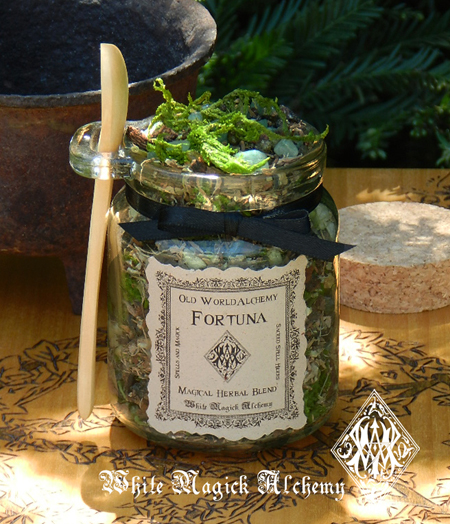 Each of my Herbal Spell Blends contain multiple elements that support the desired outcome. Whether it is love, fortune, protection or accessing your psychic powers my  Herbal Spell Blends will enhance and intensify your practices.